There lives an animal called coral that looks like a plant. Its body consists of a hollow cylindrical structure called a polyp. Its one end is attached to some surface, and the other free end is a mouth full of tentacles.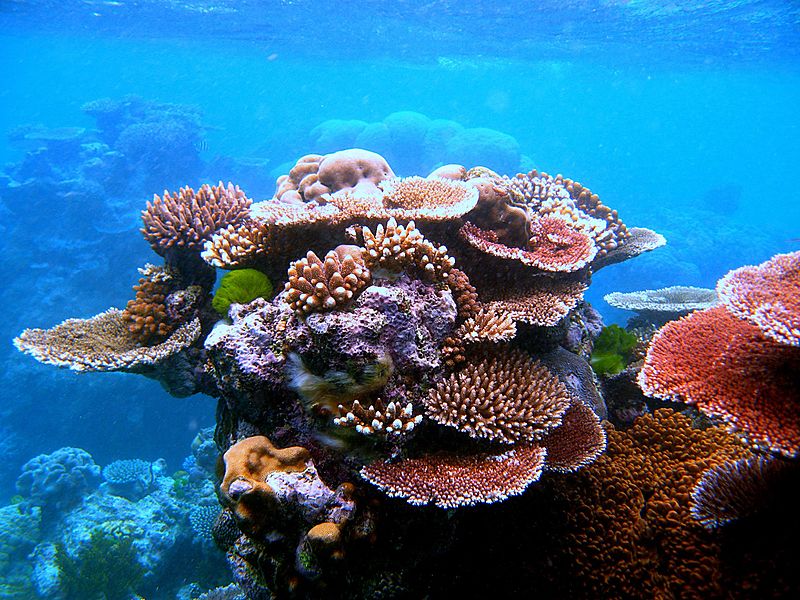 They end up growing and building spectacular reefs. But people used to wonder how they could flourish. One day the mystery was solved when large numbers of microscopic single-celled algae were found living in coral tissues. This algae, called zooxanthellae, is a plant.
Now starts a beautiful love story between an animal and a plant that is coral and algae. They are in a mutualistic beneficial relationship where they have agreed to support each other to thrive.
The coral provides algae a safe, sunny place to live (in its tissues), and in turn, coral is kept clean and well-fed. The algae also give a coral its beautiful colors. The algae absorb any waste product thrown out by the coral and use it together with sunlight to produce food. The food produced by the algae is absorbed by the coral to build reefs (a colony of animals).
So in this relationship, the coral polyps (animals) provide the algae (plants) a home, and in return, the algae provide the corals with the food they generate through photosynthesis.
While most corals' food is obtained from the algae, the tentacles also allow the coral polyp to capture small organisms. Also, corals depend upon calcium to build their skeletons which they obtain from the sea. Water that is disturbed by currents is required as it ensures the supply of calcium.
But like some beautiful love stories have a sad ending, here also it is no different. The selfish human wants their end to be tragic as well. How so? Let's learn.
With the increase in temperature, due to global warming, corals expel the algae living in their tissues. This is called coral bleaching. It is named so because it results in the loss of color of coral reefs into white.
If bleaching continues for prolonged periods, corals eventually die. e.g the bleaching of the Great Barrier Reef in 2016 and 2017, for instance, killed around 50% of its corals. At this rate, Corals cannot survive the frequency of current bleaching events taking place due to global temperature rise.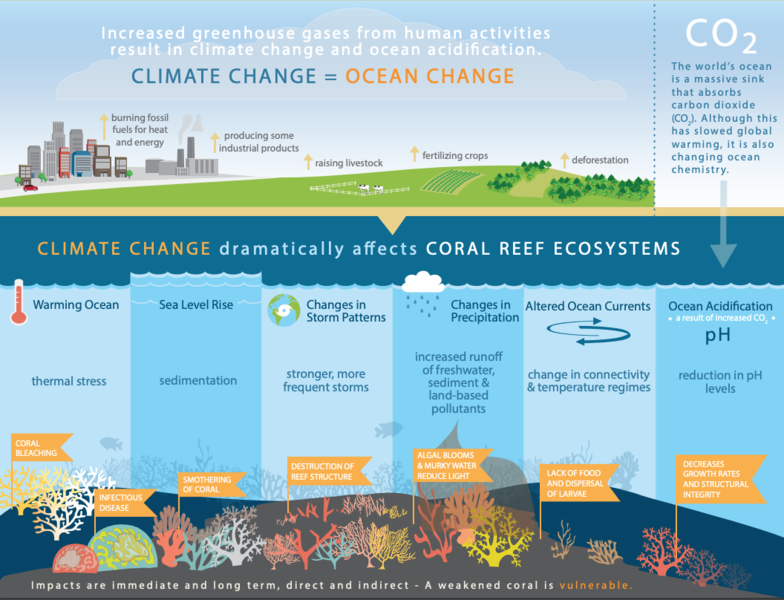 The second major issue is human development and demand. High levels of nutrients enter water bodies from sewage outflows and agricultural areas along with pollutants like petroleum products and pesticides. Coral reef existence is threatened by these land-based sources of pollution.
How so?
These nutrients contain phosphorus and nitrogen that increase harmful algae growth, crowding out corals. The balance is lost. Moreover, as the algae die, its decomposition process consumes dissolved oxygen. The excessive algae growth ultimately decreases the oxygen content resulting in poor water quality.
In addition, sediments get deposited onto coral reefs and interfere with their ability to feed and reproduce. Therefore corals need sediment-free water. They do not grow in muddy waters.
The third issue is destructive fishing practices and gear used, for example, dynamites resulting in physical damage.
The fourth major problem is overfishing. Fishes feed on algae. They keep corals clean of algal overgrowth and maintains balance. Overfishing leads to high levels of algal growth than necessary.
Problem areas are increasing in surface temperatures, overfishing, increase in nutrient levels of water, use of destructive methods like dynamites, oil spills, and marine pollution.
Why Corals are important?
Corals are home to diverse aquatic species. They form the storehouse of resources like fish. Reef fish accounts for 15% of the total worldwide fish catch. It generates employment to support millions of people worldwide who are dependent on them in one form or another.
Also, Coral reefs absorb energy from the waves and reduce shoreline erosion, thereby, protect coastal housing, agricultural land, and beaches.
At the same time, reefs are home to species that have the potential to create therapeutic drugs for pharmaceutical companies.
Last but not least, let's not forget the revenue generation from tourism.
Their disappearance will therefore have health, economic and social consequences. They serve as an early warning sign of what may happen if the climate change and environmental degradation issues are not addressed urgently.