The Intergovernmental Panel on Climate Change (IPCC), a global body of scientists that makes periodic reviews of climate science, has issued the second part of its sixth assessment report. This second installment of the report discusses climate change impacts, risks and vulnerabilities, and adaptation options.
The first part of the assessment was published in August 2021. It was centered on the scientific basis of climate change and warned that 1.5°C warming was likely to occur by 2040. The third and final report, which will look into the possibilities of reducing emissions, is set to be released in April 2022.
What is the Assessment Report of IPCC?
The Assessment Reports are the most thorough assessments of the current status of the world's climate. Hundreds of scientists go through every piece of relevant, published scientific data to develop a consensus understanding of climate change. Three working groups of scientists prepare the Assessment Reports.
Working Group-I focuses on the scientific foundations of climate change.
Working Group-II investigates potential impacts, vulnerabilities, and adaptability challenges.
Working Group-III addresses possible actions that can be taken to combat climate change.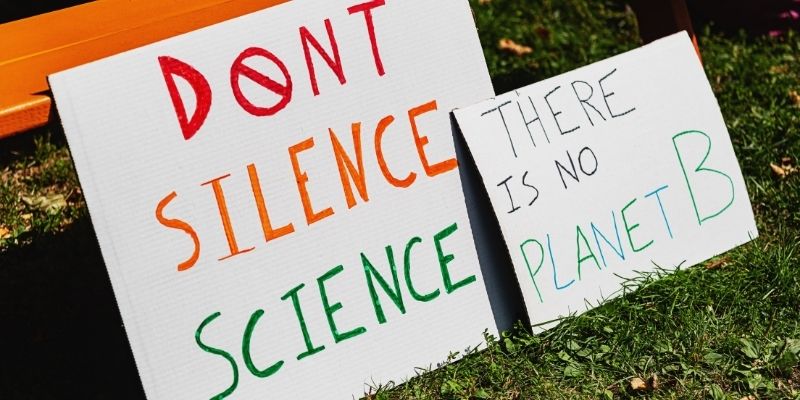 What exactly is the Sixth Assessment Report (AR6)?
The IPCC publishes assessment reports every few years. Five reports have been issued thus far (1990, 1995, 2001, 2007, and 2015).
The United Nations IPCC's Sixth Assessment Report (AR6) is the sixth in a series of reports to evaluate scientific, technological, and socioeconomic data on climate change. With more than 34,000 citations, the Sixth Assessment Report is among the world's most respected resources for science-driven climate change research. The report assesses the physical science of climate change by examining the past, current, and future climate. It explains how human-caused emissions are changing our planet and what this implies for our shared future.
What is the importance of IPCC Reports?
IPCC reports serve as the scientific foundation upon which governments worldwide base their climate change policy responses. These can be quite beneficial in developing climate change action strategies. However, these reports, on their own, are not policy directives: they do not advise countries or governments what to do. They are solely intended to offer facts with as much scientific proof as possible.
Each assessment report has expanded on the preceding ones over the years, providing additional evidence, information, and statistics. As a result, most conclusions concerning climate change and its consequences now have significantly greater clarity and confidence.
These reports serve as the foundation for international climate change negotiations that determine global responses. These discussions resulted in the Kyoto Protocol and the Paris Agreement. The Paris Agreement was negotiated based on the Fifth Assessment Report.
Origin of Intergovernmental Panel on Climate Change (IPCC)?
It is the United Nations body for assessing the science related to climate change. It was established in 1988 by the World Meteorological Organisation (WMO) and United Nations Environment Programme (UNEP) to provide policymakers with regular assessments of the scientific basis of climate change, its impacts and future risks, and options for adaptation and mitigation.
These assessments underlie negotiations at the UN Climate Conference – the United Nations Framework Convention on Climate Change (UNFCCC).
What are the key takeaways from the Sixth Assessment IPCC Report 2022?
Working Group II assesses the impacts of climate change, how humanity and ecosystems are both vulnerable, and how they are adapting to it.
According to the most recent assessment, the effects of climate change are significantly more severe, frequent, and disruptive than previously understood. The study also assessed the regional and sectoral implications of climate change for the first time. It included threats to the vulnerabilities of megacities all around the world. There is a particular emphasis on the interdependence of climate, biodiversity, and human society and integrates natural, social, and economic sciences more strongly than earlier IPCC assessments.
Observed and Projected Impacts and Risks
The world faces unavoidable multiple climate hazards over the next two decades with global warming of 1.5°C. Even transiently exceeding 1.5°C will result in additional severe impacts, some of which will be irreversible. Risks for society will increase, including to infrastructure and low-lying coastal settlements.
Human-induced climate change has caused widespread adverse impacts and damages to nature and people.
Vulnerability – Approximately 3.3 to 3.6 billion people are highly vulnerable to climate change.
Multiple hazards – If global warming rises to 1.5°C, multiple climatic hazards and threats to ecosystems and humanity will inevitably increase.
Increased risks – Climate change will pose a significant threat to natural and human systems beyond 2040.
Compounding effect – Climate change impacts and risks are becoming increasingly complex. Multiple climatic and non-climatic hazards will occur simultaneously, compounding overall risk across several parts of the world.
Impact on Health
The IPCC report examined the health effects of climate change for the first time.
Climate change has been observed to increase vector-borne and water-borne diseases such as malaria and dengue fever, particularly in Asia's subtropical areas.
It also said that fatalities from circulatory, respiratory, diabetic, as well as newborn mortality are anticipated to grow as the temperature rises.
Extreme weather occurrences such as heatwaves, floods, drought, and air pollution were all leading to malnutrition, allergy diseases, and even mental health problems.
Higher temperatures, rain, and flooding have increased the prevalence of diarrhoeal diseases formerly thought to be controlled.
According to the report, climate change impacts people's physical and mental health
Impact of Wet-Bulb Temperature
The report refers to wet-bulb temperatures, a measure that combines heat and humidity. A wet-bulb temperature of 31°C is hazardous for humans, while a value of 35°C is unsurvivable for more than about six hours, even for fit and healthy individuals. 
For example, at present, wet-bulb temperatures in India rarely exceed 31°C, with most of the country experiencing maximum wet-bulb temperatures of 25-30°C, according to IPCC. If emissions continue to rise, wet-bulb temperatures will approach or exceed the unsurvivable limit of 35°C over much of India, with most of the country reaching wet-bulb temperatures of 31°C or more.
Wet-bulb globe temperatures in Southeast Asia are expected to reach 34-35°C by 2050.
Impact of increase in Global Sea Level on cities
According to the IPCC report, with increasing carbon emissions and ice sheets collapsing faster than projected, sea levels might rise by up to 2 meters this century and 5 meters by 2150.
Southeast Asia, particularly Indonesia, the Philippines, and Vietnam, are among the countries where large slum and urban populations are particularly vulnerable to rising floods as sea levels rise.  
Other impacts
Mass mortality events such as climate-driven extinction, death, and disease due to extreme heat will increase. Climate change will also impact terrestrial, wetland, coastal, ocean ecosystems, coral reefs, freshwater systems, and food production systems (fisheries and aquaculture).
A large portion of the coral reefs that exist today will disappear as the average global surface temperature reaches 1.5°C above pre-industrial levels.
Climate change will cause an increase in heat-related mortality, extinction of some animal species, and a rise in wildfires. Koalas are at risk of local extinction due to increasing drought and rising temperatures.
Fisheries and aquaculture will be negatively affected. Changes in food, income, and livelihoods will influence food security in coastal human populations.
Forest fires will become more common, as will storm damage and the geographic spread of exotic species, pests, and illnesses. The number of species at risk of extinction due to climate change would grow as well.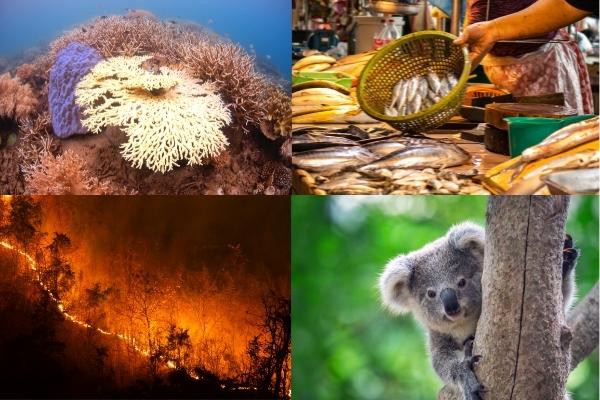 Current Adaptation and its Benefits
Climate change risks and impacts can be mitigated to some extent if humans and nature adapt to changing conditions. According to the report, the world is currently unprepared for the effects of climate change, especially beyond 1.5°C global warming.
Large gaps – The report finds significant gaps between existing efforts and the adaptation required to deal with current levels of warming, with the magnitude of the problem differing by region. Lower-income populations face the greatest disparities.
Short-term efforts – Many initiatives focus on near-term and immediate climate risk reduction, limiting the chance for transformative adaptation.
Adaptation options may not last – The report also highlights that the effectiveness of available adaptation options will decrease with every increment of warming.
Urgent actions – Successful adaptation requires immediate, more ambitious, and faster action, as well as quick and significant reductions in greenhouse emissions.
Climate Resilient Development Strategies
Climate Resilient Development assures that countries are able to cope with current and future changes in their climate while minimizing damages.
Time to act was yesterday – The report clearly emphasizes that Climate Resilient Development is already challenging at current temperature levels. If global warming surpasses 1.5°C, it will become more limited. If temperatures exceed 2°C of warming, climate-resilient development will become impossible in some regions of the world.
Coupled system – Climate, biodiversity, and human society are all part of a coupled system, which means they are interconnected. If one of them is changed, the other two will be affected as well. Based on this understanding, preserving biodiversity and ecosystems is critical to climate-resilient development.
Biodiversity and ecosystems – According to new findings, preserving the resilience of biodiversity and ecosystems on a global scale requires successful protection of 30 to 50 percent of Earth's land, freshwater, and ocean regions, including existing near-natural ecosystems.
Greenhouse emissions and Sustainable development – Relying on nature will not suffice. An overall improvement in climate resilience requires a wide range of actions that drastically reduce human-induced greenhouse gas emissions and put human society on the path of sustainable development.
Sustainable development – Clean energy generation, circular economies, healthy diets from sustainable farming, appropriate urban planning and transportation, universal health coverage, social protection, training, education, and water and energy access for everyone are all examples of sustainable development in a climate context.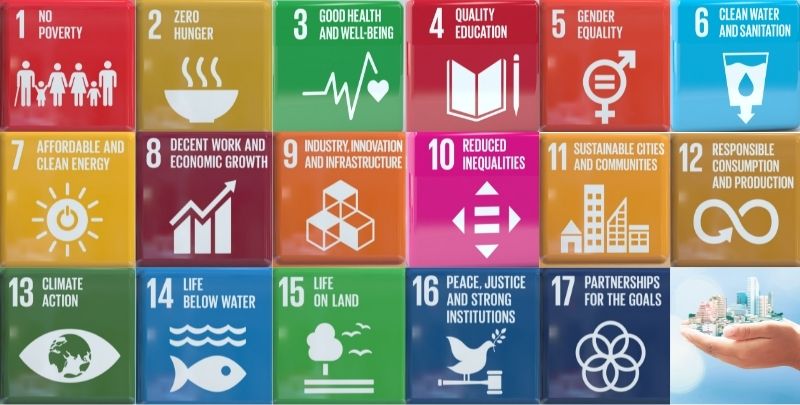 Collaborative effort – Governments, civil society, and the private sector must make inclusive development decisions. Adequate funding, technology transfer, political commitment, and collaboration will result in more successful climate adaptation and emission reductions.