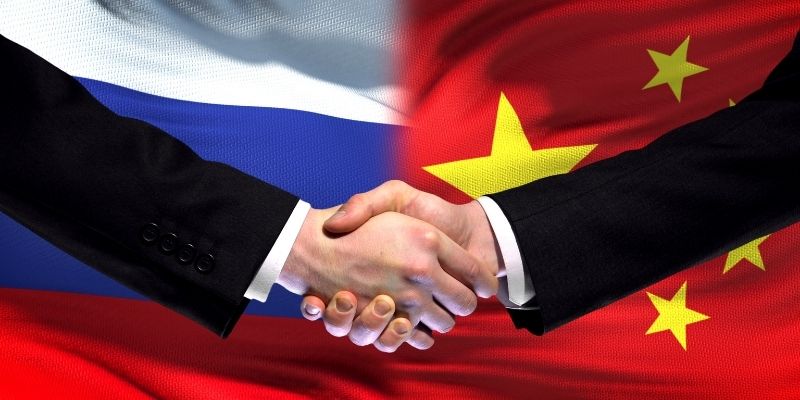 The statement underlines China and Russia's strong strategic alliance as they met at the Winter Olympics in Beijing
Read more



Russia's Vladimir Putin and China's Xi Jinping issued a joint statement as they met at the opening of the Winter Olympics in Beijing. The timing of their announcement was highly symbolic for two reasons. First, it was made right before the Olympics hosted by China that the US boycotted diplomatically. Second, the declaration comes as tensions between Russia and the United States over Ukraine rise.

Some of the key points:

They opposed "interference in the internal affairs" of other nations, indirectly hinting at the present circumstances in Ukraine and Taiwan, and stated that promoting democracy and human rights should not be used to exert pressure on other countries.

Russia backed China's position that Taiwan is an integral part of the country, opposing any form of independence for the island.

China supported Russia in its opposition to NATO expansion, calling for an end to the alliance's expansion and supporting Russia's demand for Western security guarantees.

The two nations voiced concern over "the advancement of US plans to develop global missile defence and deploy its elements in various regions of the world". They said that the US's refusal of several critical international weapons control treaties had a significant detrimental impact on international and regional security and stability.

The two nations also raised severe concerns about Australia's, the United States, and the United Kingdom's trilateral security alliance (AUKUS). They feel that such activities counter the Asia-Pacific region's security and sustainable development goals, enhance the possibility of an arms race in the area, and pose significant concerns of nuclear proliferation.

As both countries have been under pressure from the West, they have become closer. After several western countries, including the United Kingdom, Australia, and India, chose not to send any government representatives to the Winter Olympics in protest of the persecution of Uyghurs and other Muslim minorities, Putin is the most significant visitor at this year's Winter Olympics.
Source: BBC