Photo by Dmitry Demidko from pexels
Abiy Ahmed, prime minister of Ethiopia, declared military operation in the country's Tigray region. It was in response to an attack on a military base by the Tigray People's Liberation Front (TPLF).
Background
TPLF is a militia-turned-party. They played a role to end military dictatorship in 1991. TPLF leader Meles Zenawi became the first elected Prime Minister in 1995 and remained in power till 2012. He is chiefly seen as the architect of the country's federal system.
Meles Zenawi put together EPRDF (the Ethiopian People's Revolutionary Democratic Front), a coalition to rule the country. EPRDF consists of many regional parties, but TPLF remained the dominant political force.
Over the years there were frequent mass protests against the government as it was accused of being authoritarian.
Amid protests and due to political deadlock, EPRDF chose Abiy Ahmed as the new prime minister in 2018.
Abiy Ahmed brought democratic reforms, lifted controls on media, as well as made peace with neighboring country Eritrea. The moves made him the recipient of the Nobel Peace Prize in 2019.
But Eritrea, which shares a border with the Tigray region, is a sworn enemy of the TPLF.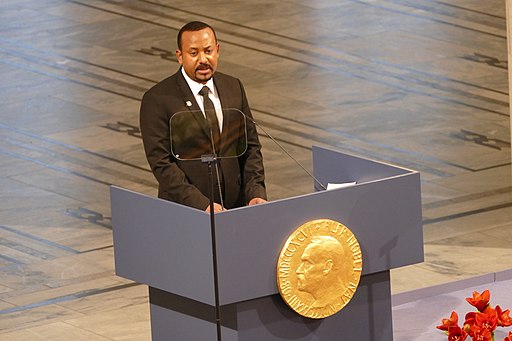 Ethiopia's Prime Minister further removed TPLF from senior government positions citing a reason for the crackdown on corruption. He formed a new political coalition government that was not joined by TPLF.
Stating the coronavirus pandemic as a reason, the government postponed the general elections to 2021. Tigray politicians accused Abiy Ahmed of a power grab.
Basically, the dispute is due to differences in political ideologies and for control in the country. The rising conflict led to an attack on the military base in Ethiopia's northern Tigray region.
Impact
The Horn of Africa consists of countries – Eritrea, Ethiopia, Somalia, and Djibouti. Due to Eritrea's proximity to Tigray, it is the hardest hit. If the violence spills outside Ethiopia's borders, it may destabilize the entire Horn of Africa region.
Moreover, the US and China have their strategic military bases in that region. If these military bases are impacted in any way, it may involve foreign powers in the conflict.
Also, TPLF enjoys good relations with Sudan. But the country has an unresolved border dispute with Ethiopia. Now if Sudan revives the old links with the TPLF and opens the border for the rebels, the conflict could go on.
Even Eritrea's troops have crossed the border to enter the Tigray region. As of today, TPLF is fighting against a coalition that includes the Ethiopian government and Eritrean forces.
Out of fear and destruction, people are being displaced. Because of abuse of human rights and crimes of rape, the Ethiopian Prime Minister has come under immense international pressure to end the conflict.