Many climate negotiators are currently working on the concept of "net-zero carbon emissions". We can do this by increasing the share of natural gas as it is the cleanest fossil fuel among the available fossil fuels as it emits the least amount of carbon dioxide into the air when burned.
Natural Gas demand is increasing "quite rapidly" as countries attempt to shift away from coal and oil. Globally, the switch to natural gas has had commendable results. It provides secure and affordable energy to everyone without degrading the environment.
Natural gas primarily consists of methane. It is used to generate electricity, cook in domestic households, and as a vehicle fuel and is delivered via pipelines, just like water from a tap. There is no need to keep cylinders in the kitchen and thus save space.
What has led to the Natural Gas energy crisis ?
Analysts attribute the rise in global energy prices to a number of factors.
Europe went into the winter season with low natural gas stocks, which is used to heat homes and generate electricity.
The search for natural gas is spreading to Asia's developing economies, with India and Indonesia contributing to global demand pressure. Overall demand from Europe has increased, causing prices to reach new highs. Meanwhile, supply remains constrained as a result of underinvestment in new projects.
Consumer demand has recovered as economic activity resumes following the pandemic scare. But, as a result of supply chain disruptions caused by the Covid-19, production has taken longer to recover. When growth continued this year, particularly in Asian economies, demand skyrocketed, and energy producers struggled to meet the increased demand, driving up prices.
It is believed that the aggressive push toward renewable energy adoption has caused investors to underinvest in traditional energy sources, resulting in insufficient supplies to meet rising demand.
During winters renewable sources of energy such as solar and wind energy turn out to be unreliable resulting in increased prices for natural gas.
Energy geopolitics – As prices shot up amid growing worldwide demand and falling production in Europe, supplies from Russia via a pipeline that passes through Ukraine and Poland also shrank, which made the situation worse. Russia has built another gas pipeline, Nord Stream 2, which will take Russian gas directly to Germany, bypassing Ukraine and Poland. But supplies to Europe through Nord Stream 2 are yet to start as the pipeline is awaiting approval from European authorities. Several European countries and the United States remain opposed to the pipeline, which they claim will give Russia more influence by allowing Russia to economically punish Ukraine and Poland (Russia no longer has to pay transit charges to send gas via Ukraine). It has fueled speculation that Russia is exploiting Europe's energy crisis to get EU permission for the Nord Stream 2 pipeline. When Russia is threatening to attack Ukraine, this is an unpleasant situation. If the United States retaliates with sanctions against Russia, Europe will bear the brunt of the consequences.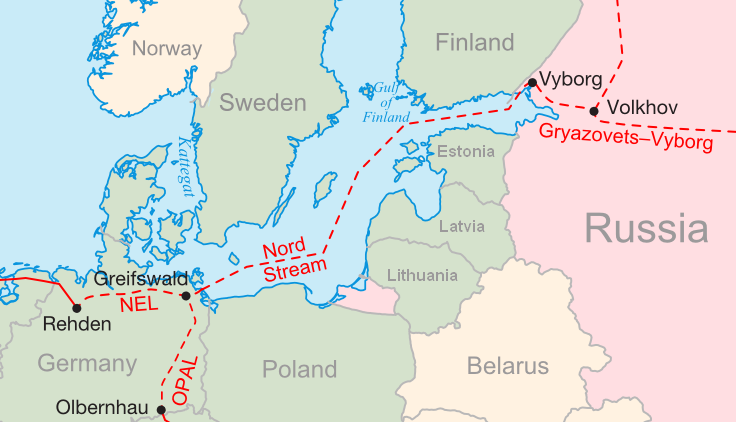 Implementing the change
The pricing of natural gas is a complex task. It is based on multiple factors like gas produced from domestic fields by the public sector companies or gas produced by private companies. Similarly, pricing for production from deep waters offshore under high temperature etc.
The second is how to tax the end-users. It means that customers located at a distance from the gas source pay a higher price than those closer to the source. The result is a decrease in demand.
Completion of a pipeline grid gets affected over issues like land acquisition, pipeline routing, and royalty payments.
Moreover, to boost the gas economy, what is necessary is deregulation of pricing, i.e., market-determined and affordable pricing will boost industrial growth and economic competitiveness.
Take the example of India. India's 80% electricity comes from burning coal, oil and biomass. It is now trying to venture into natural gas fossil fuel. GAIL (India) Limited (formerly known as Gas Authority of India Ltd.) is a government-owned natural gas corporation. GAIL has a presence in almost every aspect of the industry. It is involved in gas production, transportation, and marketing, allowing it to use its leverage of the majority of gas pipelines to prevent competitors from accessing the market. Despite the fact that the policy requires all marketers to have guaranteed and common access, GAIL can nevertheless use the regulation to its benefit without breaking it.
Like other developed countries, who have solved this issue, India and countries similar to India need to tackle this conflict-of-interest situation by separating the upstream (production/import) and downstream (marketing) interests from transportation. e.g. GAIL's activities should be limited to pipeline construction and transportation.
The transition to natural gas, therefore, requires policy reforms. It should cover things from production (domestic and international) to transportation (pipeline and LNG), markets (current and emerging), commerce (pricing, taxation) and regulatory issues. At the same time, dependence on coal and oil needs to be reduced, and natural gas has to be replaced as much as possible.
Consequences
In the short term, the most pressing concerns are the winter power outage, the impact of record-high gas and electricity prices on end-user energy bills. In the future, there may be a backlash against renewable energy as more people realise the economic cost of meeting emission targets.
Currently, at least two schools of thought are emerging from the current situation: one that sees this episode as further proof that the world needs to quickly abandon fossil fuels, even natural gas, and another school of thought says it's proof that more gas is needed in the immediate future to meet growing global energy demand.
How Nature Makes Coal, Oil and Gas
Fossil fuels such as Coal, Petroleum (oil and natural gas) are formed when organic matter buried deep within the Earth is subject to heat and pressure over millions of years. Fossil fuels are used to produce energy; they are burned to produce heat in the home. In large power stations, they are used to produce electricity and are also used to power engines in transportation. Fossil fuels are non-renewable, which means that their supply is limited, and they will eventually run out.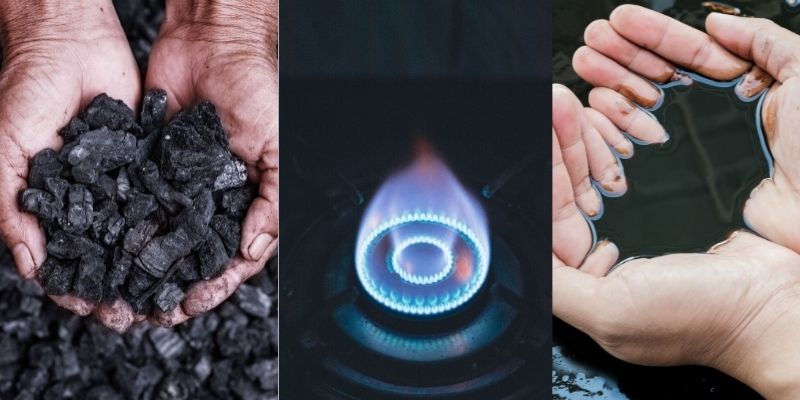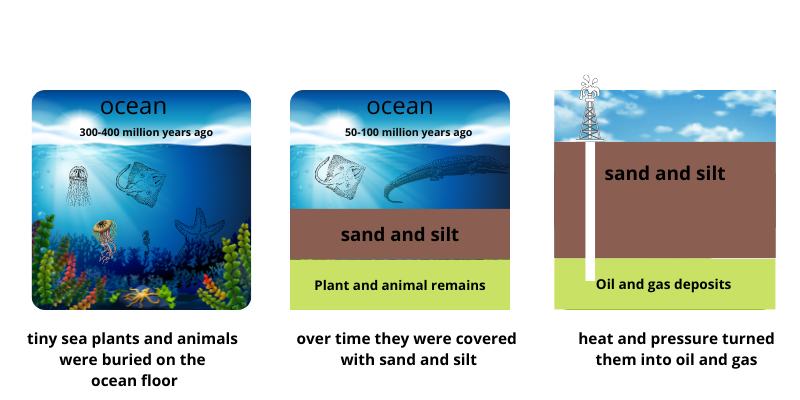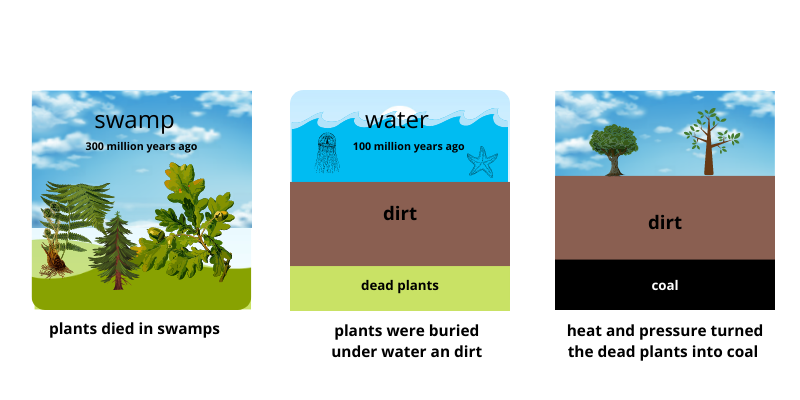 Related processes
There are several steps involved before it becomes useful.
Exploration – First you need to find an energy source. Geologists are constantly examining the areas and their rocks to determine that.
Extraction – Once a source is located, you need to remove it from the earth. The mining process ranges from coal mining to oil and gas drilling.
Processing – Processing can take the form of crushing, grinding etc. Coal is broken into smaller usable chunks for use in domestic settings.
Refining – The oil that is pumped from the Earth is extracted in the form of crude oil. This oil is sent to a refinery where fractional distillation processes separate the different mixtures of fuels. The oil is separated into various components: petrol, diesel, kerosene, and residue. These components can be further processed into plastic.
Upstream, Midstream and Downstream
The oil and gas industry can be divided into three categories: upstream, downstream and midstream.
Upstream Oil And Gas Production
This includes locating deposits, drilling wells, and recovering raw materials from the ground. Exploration and production firms are other names for them.
Midstream Oil and Gas Production
It refers to the movement of crude or refined petroleum products, which is often done by pipeline, an oil tanker, truck, barge or rail.
Downstream Oil and Gas Production
It's the last step in the procedure. Crude oil and natural gas are refined, processed, and purified in this process. The sector also encompasses any efforts to market and distribute crude oil and natural gas-related products. It includes products such as petrol, gasoline, diesel oil, jet fuel, lubricants, heating oil, asphalt, waxes, and various petrochemicals.