Image :
Stijn Swinnen
on unsplash
The rise in Fascism and Naizsm – Dictatorial regimes in Italy and Germany arose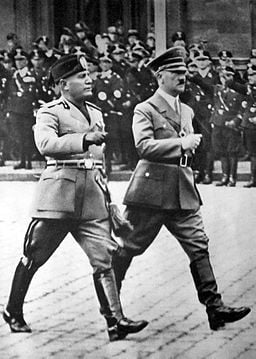 Mussolini formed the government (Fascist Party) in Italy in Oct 1922
Hitler formed his Nazi Government in Germany in Jan 1933
Image :
Source
Main Features of Fascism and Nazism
Dictatorial ideas appealed to the masses of Italy and Germany.
Aggressive nationalism

Both pursued expansionist policy abroad
Anti-communism – Fascism claimed to be neither capitalistic nor socialistic.
Racialist Policies in Germany
Mussolini and Hitler were able to attract, influence and inspire people
One party or One-Man rule. Tolerate no opposition
Racialist Policies in Germany
All people of the Aryan race in Europe, whether they lived in Denmark or Poland or France were sought to be united in the German empire. In the name of the 'Aryan' principle empire, Jews were mercilessly killed by Nazis. Mussolini also adopted Anti-Jewish policy under Nazi influence.
Holocaust Memorial – In Berlin, The Memorial to the Murdered Jews of Europe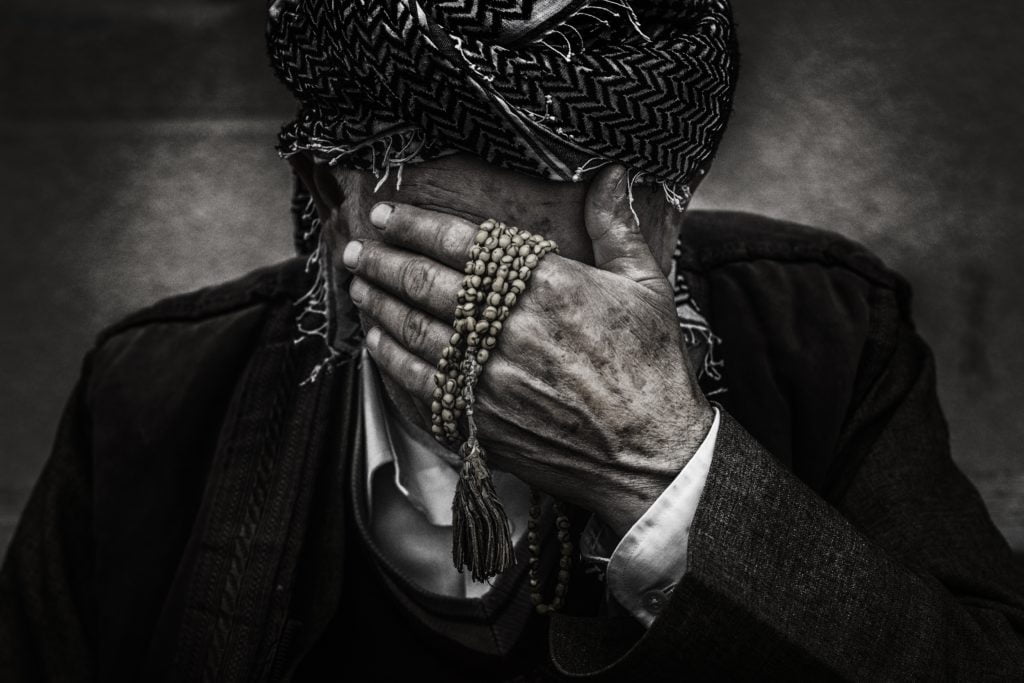 As a result of WW1, there was an economic crisis in various nations. There was a food shortage, inflation, unemployment, corruption, and nepotism. Democratic governments were not able to face the challenges and problems effectively. Dictators took advantage of the situation.
Image :
Source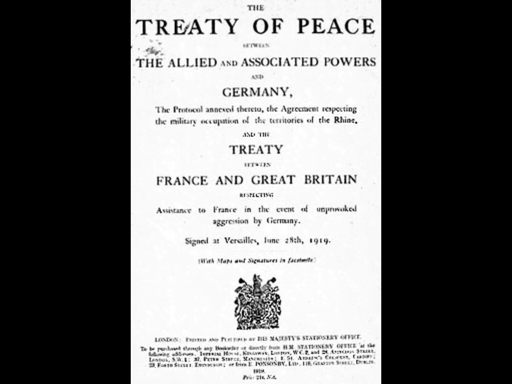 Treaty of Versailles Peace settlement at Paris was made in a spirit of revenge. Germany was deprived of its colonies. Her military strength was completely crushed. Germany's defeat in the war and condition imposed by the Treaty of Versailles, made Germans feel ashamed and helpless. She was forced to cede large chunks of her territory to France, Belgium, Poland, and Denmark. This fuelled the rise of Nazism in Germany.
Image :
Source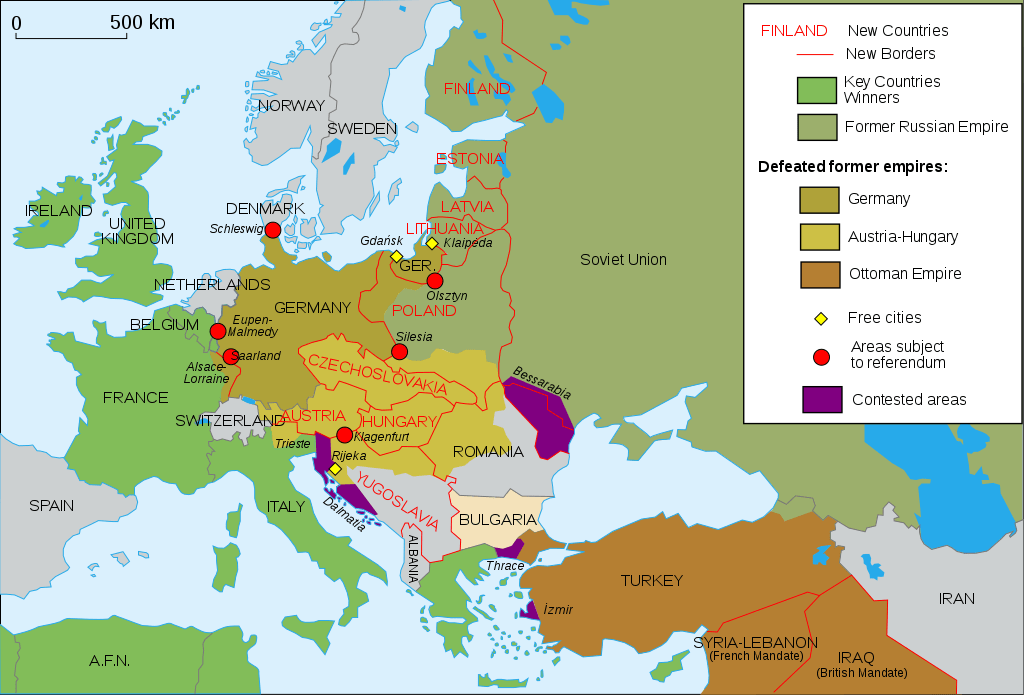 Fascist movement in Italy – Italy had to spend a lot of money during WW1 on her army and war equipment. She was groaning under heavy debt. At the same time, there were problems of poverty, hunger, disease, and unemployment, riots, strikes. The government was not strong enough to maintain law and order. In this situation, Fascists seized power in Italy. Italy turned towards Germany and Japan. In 1940, Italy entered WW2.
Image :
Source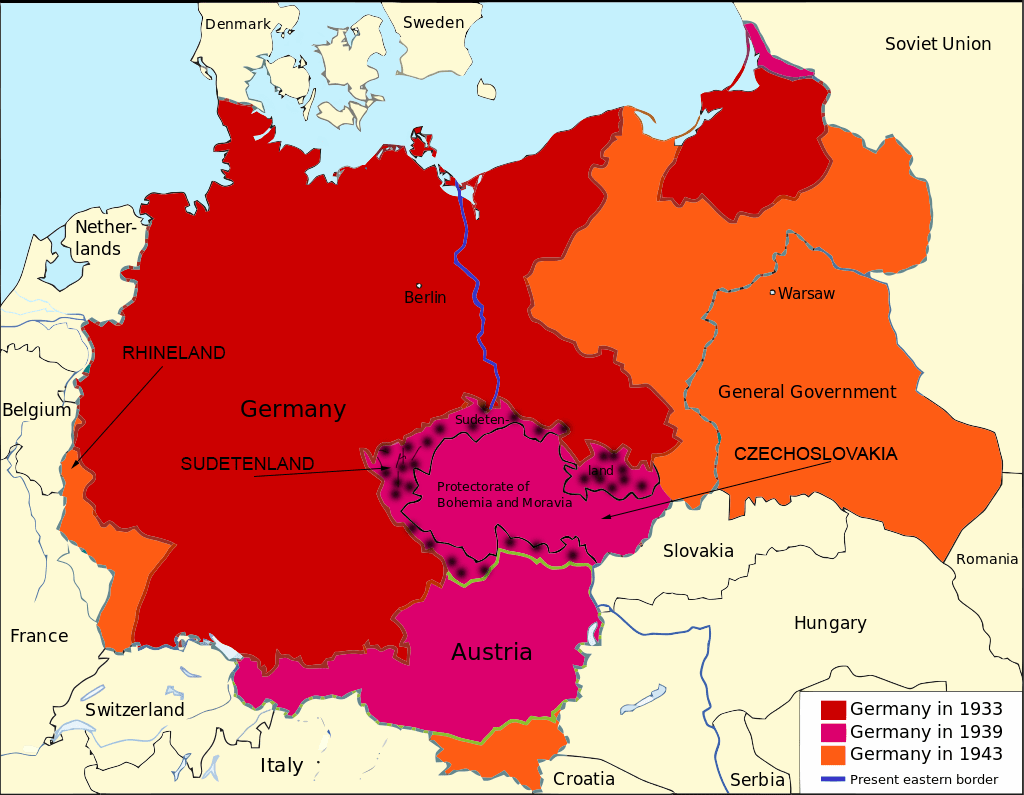 Hitler's act of aggression –
In 1936, Hitler made his first move to occupy Rhineland that had been demilitarized by the Treaty of Versailles
He then captured Vienna, Capital of Austria
Soon he turned his attention to acquire Sudetenland. Hitler declared that Germans were being forced against their will to live there. He wanted to liberate them. The president of Czechoslovakia was not prepared to make a compromise. The war seems inevitable. The head of four nations – Germany, Italy, Britain, and France met in 1938 and decided to handover Sudetenland to Germany. The Czech government was persuaded to accept this Munich pact in the interests of peace
Image :
Source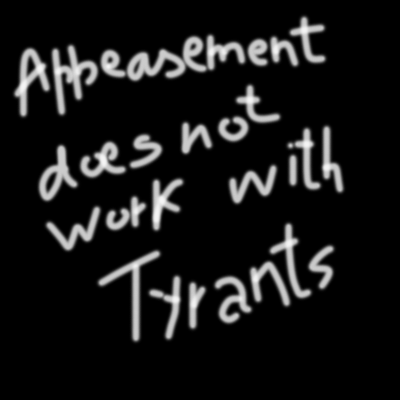 The policy of Appeasement – There were 2 main reasons why Britain and France followed a policy of appeasement towards Germany.
they believed that the treaty of Versailles had been too severe
they thought that if genuine grievances of Germany were removed, she would not harm the peace of the world. As a result, they agreed to transfer Sudetanland to Germany.
Depression of the 1930s was a pressing issue for them. They were concerned about their problems rather than looking at what was occurring in foreign countries.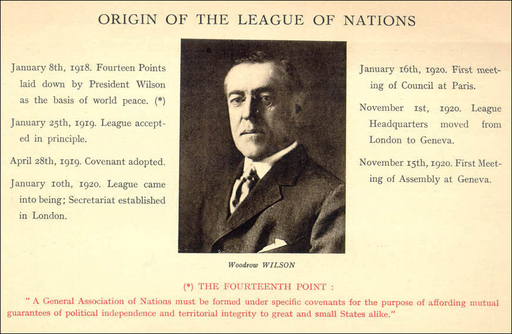 Failure of the League of Nation When weaker nations appealed to the League to take actions against the aggressors, the only weapon that was available was economic sanctions which proved ineffective. If member states had taken collective action against Italy's aggression in Ethiopia or Japan's invasion of Manchuria, the world would have been spared the horror of the war. League failed in taking action against aggressors which encouraged Germany to occupy Austria and attack Poland – ultimately led to WW2.
China appealed to the League of Nations to declare sanctions against Japan but Britain and France followed the policy of appeasement. Thus, Japan occupied Manchuria. In 1933, Japan left the league and started occupying the American and British properties in China. Britain and France did not give any attention, thinking that the Japanese could be used to weaken China.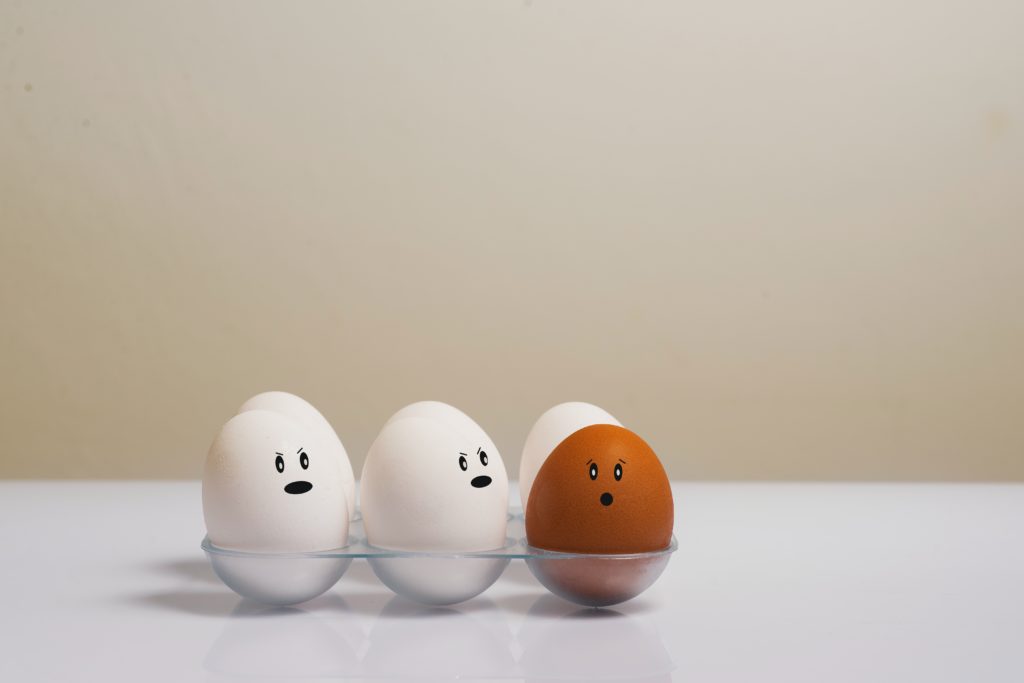 Ideological Differences
US, Britain, France = Liberal democracy, Periodic elections, Freedom of speech and from arbitrary arrest (Allies)
Italy, Germany = One political system, no elections, Had expansionist aims (Axis)
Image :
daniel-reche
at
pexels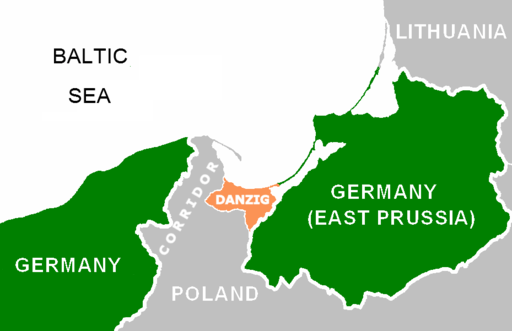 Immediate Cause
German invaded Poland and demanded the Danzig corridor. Hitler was demanding Danzig corridor for two reasons
The city of Danzig was inhabited by Germans
he could connect East Prussia with Germany by occupying the Danzig corridor
Britain and France pledged assistance to Poland against German's aggression.
Poland was accused of committing atrocities against Germans living there.
In 1939 Germany signed a Non-Aggression Pact with Russia and agreed to take no military action against each other. It took the world by surprise.
German troops stormed into Poland On 1st September 1939. On 3rd September, Britain and France declared war on Germany.
Image :
Space_Cadet
at
English Wikipedia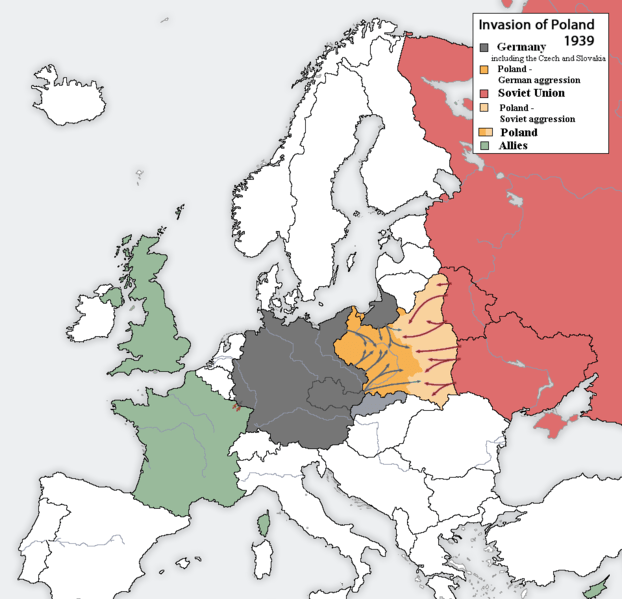 Hitler adopted a new method of warfare, called 'BlitzKrieg' (lightning attack), German armed tanks stormed into Poland
Image :
Source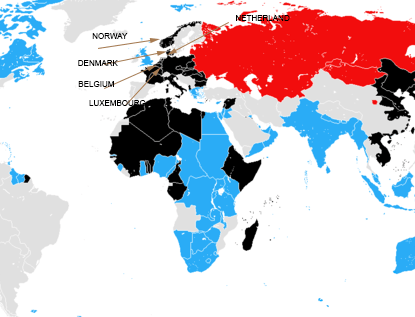 Denmark, Norway and Netherlands were annexed by Germany. In 1940, Luxembourg and Belgium surrendered.
Western allies (blue), Soviet & allies (red) and Axis (black), December, 1940 Image :
Source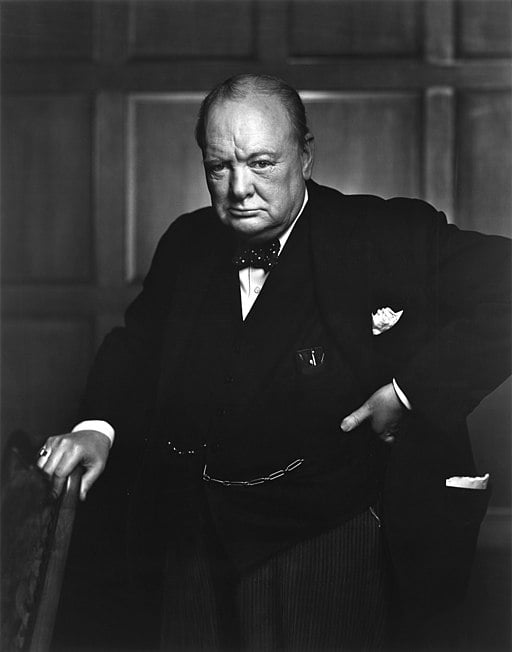 Battle of Britain – The magic of Churchills' forceful speeches inspired British people to achieve a glorious victory against Germans.
"Success is not final, failure is not fatal: it is the courage to continue that counts"

Winston Churchill | Former Prime Minister of the United Kingdom
Image :
Source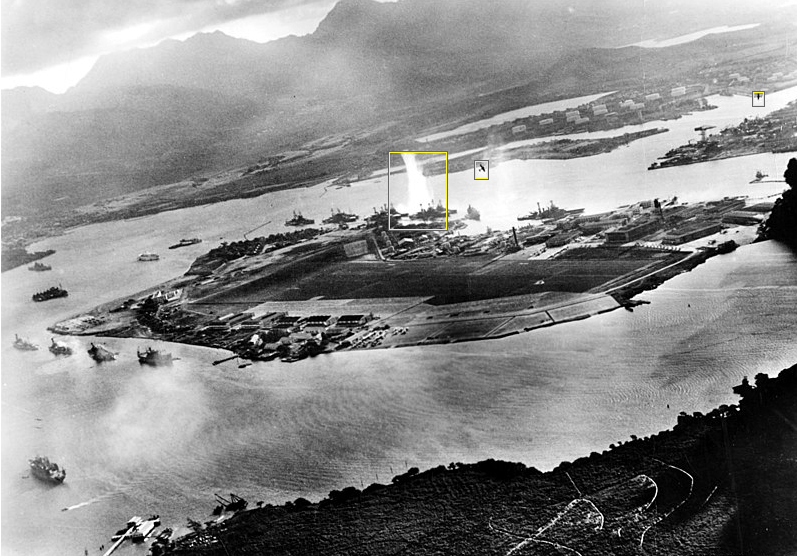 On 7th December 1941, Japan attacked Pearl Harbour. The US now declared war on Japan and other axis powers.
Japanese Plane and Explosion – Image :
Source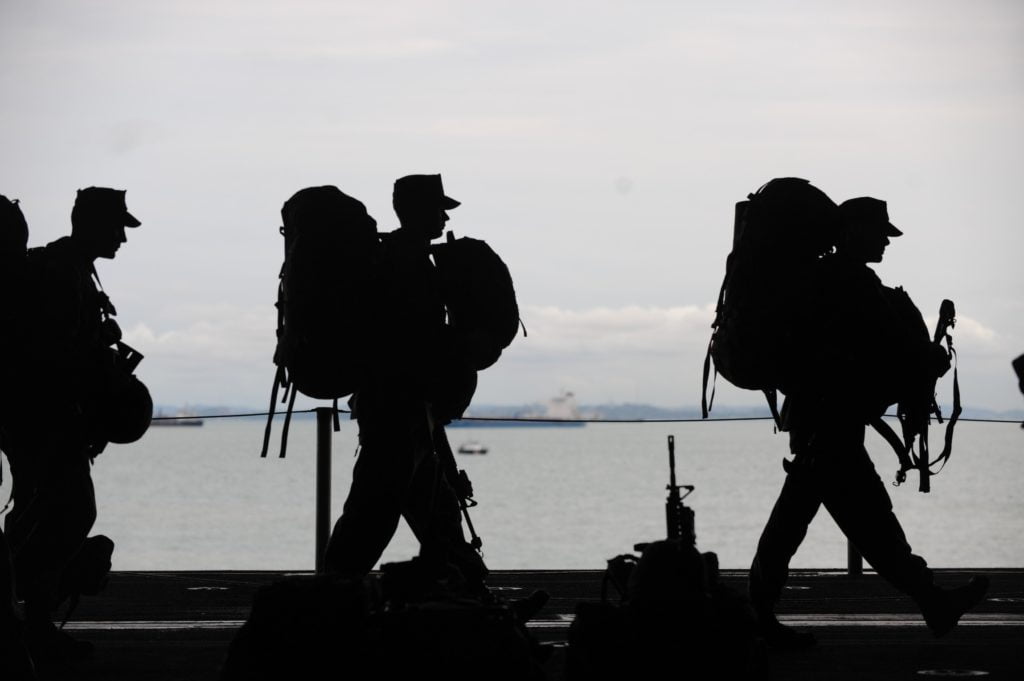 Germany invaded Russia. Then came the long battle of Stalingrad (1942). Russian troops defended the city with great determination and Germans had to surrender.
Image :
Source
The defeat of the Axis Powers
In July 1943, the Allies attacked attacked Italy
In April 1945, Mussolini was shot dead
Allied Forced occupied France
Fall of Berlin – Germans were caught between British and Americans on one side and Russians on the other side. Hitler committed suicide. On 7th May 1945, Germans armies surrendered
Japan conquered Thailand, Malaysia, Myanmar and Philippines and continued to fight against America in the Pacific.
On 6th August 1945, America dropped atom bomb on Hiroshima. On 9th August, another atom bomb dropped on Nagasaki. Japan accepted the surrender terms on August 14th.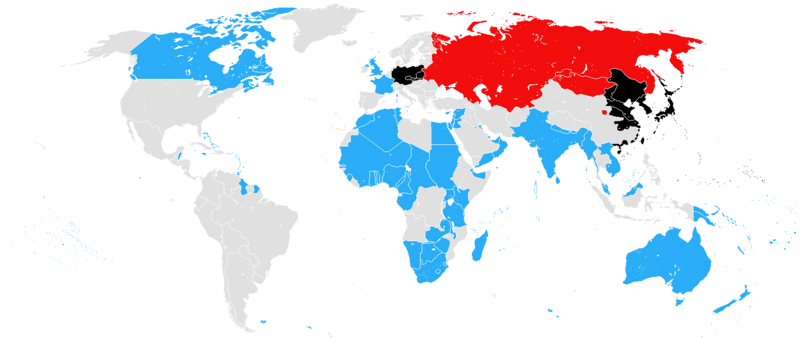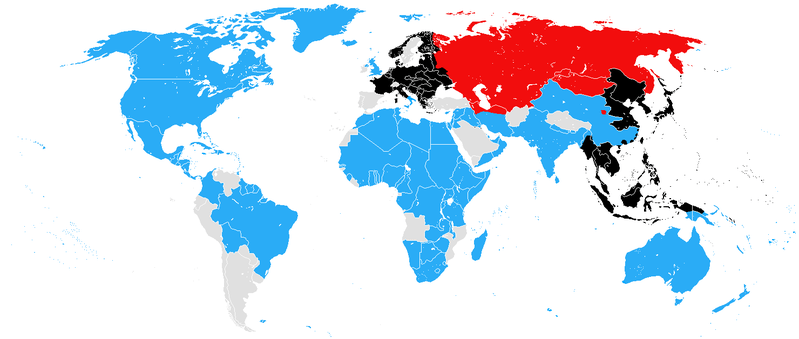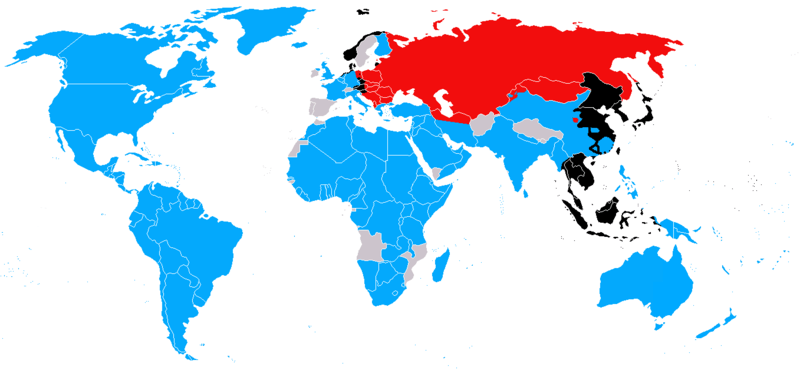 Western allies (blue), Soviet & allies (red) and Axis (black) Image :
Source
Consequences of the War
Death and devastation on large scale
Overthrow and destruction of Axis Powers (German, Italian and Japanese dictatorial regimes surrendered to the Allies). The Allies occupied Germany and it was partitioned into four zones.
Trial of most serious offenders
Rise of communism – Russia under Stalin was successful in establishing communist governments in East European countries – Poland, Hungary, Bulgaria, Romania, Albania, and Czechoslovakia
Cold war – US and Russia emerged as great powers of the world. This led to the emergence of the cold war between the western powers led by the USA and communist Bloc led by Russia.
Decolonization and rise of independent nations. European powers were weakened by WW2. Demand for independence received a great stimulus. Many countries like India, Myanmar, and Srilanka became independent between years the 1947 and 1948.
Use of nuclear energy for peaceful purposes for both, growth in industries and agriculture.
Birth of the UN on 24th October 1945
Disarmament attempts – CTBT (Comprehensive Test Ban Treaty) provides that non nuclear states should not manufacture nuclear weapons. Countries rejected it because it did not lay down a time bound framework to eliminate all nuclear weapons from the earth.